The Asheboro Open
Hall of Champions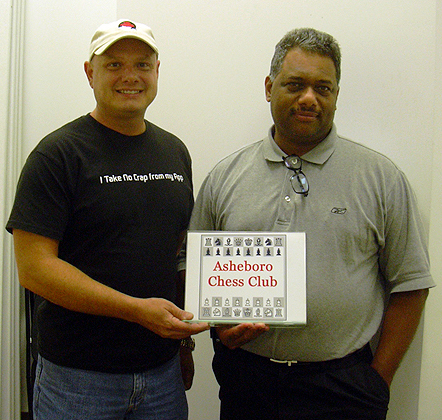 The Asheboro Open 72 Grand Champions
Eric Singer (left) and FM Ron Simpson
August 2011
Okay folks, it has been a while since the Hall of Champions has been updated. As some of you know, my mother in law was diagnosed with stage 4 ovarian cancer last year, and for a while, I was being pulled in 100 directions. The good news is that she is doing much better than expected. So I am picking up the reigns from here, and hopefully I can fill in some missing pieces as time permits.
Our headliner this month was former North Carolina Champion FM Ron Simpson, the "Fearless FM" who never minds swooping down from Olympus to play among mere chess mortals. This month, he was put to the test, and exiled from Sweepville by NM Leland Fuerstman, whose play of late has been top-notch. Simpson fought like a tiger to find a win, and it was a dramatic spectacle to say the least. After a long struggle, Fuerstman secured the draw, announcing it with his patented flair. Meanwhile, Eric Singer also had a rough row to hew, facing Asheboro Expert Jonathon McNeill in round one. Down a pawn but hanging on, Singer secured the draw after a minor slip by McNeill. He went on to garner two more wins against strong competitors, tying Simpson for first with 2.5 points. In true Asheboro Style, there were no disappointments come award time, and each left with a prize of $112.50 (not bad for a tie!). Joshua Taylor and Mark Gragg, two of the strongest A players on the block, drew their third round game and split the $30.00 class prize down the middle. For the complete rated results, CLICK HERE.
A note about Eric Singer: hailing from Greensboro, Eric recently got back into chess after a nearly 10 year hiatus! He has become a regular at Asheboro Chess Club, and we are delighted to be a part of his return to the NC Chess Scene. Expect great things from this talented player!
Be sure to check out some of the tournament games posted in the NC Chess Games Database. Update coming SOON!!
Congratulations to our August 2011 Grand Champions!
************************************************************************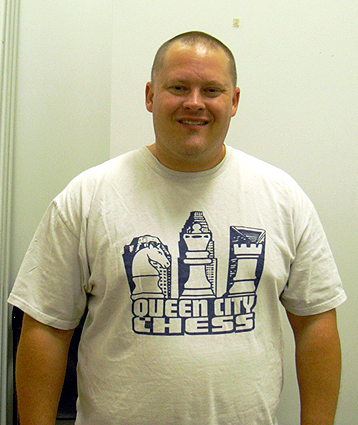 The Asheboro Open 72
First Place, Candidate's Section
Julian Billings
(winner of worst tee-shirt competition! LOL)
August 2011
Julian Billings needed patience and cunning to win his third round game against Asheboro's own Homer Cantrell. Seemingly on the ropes, Billings set a queen trap which left his opponent both languishing and laughing. Homer personifies excellent sportsmanship, and Asheboro is proud to have him on our roster. Back to our winner: Julian Billings has become a fixture in Asheboro, and was no doubt due some frequent flyer miles. His ultimate reward for a perfect 3-0 shutout: $150.00 and 57 USCF rating points!! Sweet! The battle for second place was a scholastic melee, and not decided until the final minutes. Praveen Suthaharan and Saraj Madiraju ultimately prevailed undefeated with 2.5 points each, splitting the $75.00 second prize. Supradeep Madduri was close on their heels with 2.0, and won the $30.00 Class Prize. There were also beaucoup rating points for the three scholastic winners, and each performed with distinction in a strong field.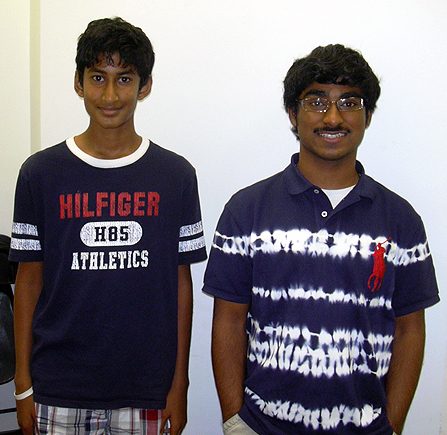 The Asheboro Open 72
Second Place Tie, Candidate's Section
Praveen Suthaharan (left) and Suraj Madiraju
August 2011
Congratulations to All...Well Done!
************************************************************************
*The 2011 North Carolina Grand Prix*
A Win is a Win, So Everybody is In!
sponsored by

New Feature: Last Month's Champions