An Official Affiliate of The United States Chess Federation
The Asheboro Open 95
Saturday January 17, 2015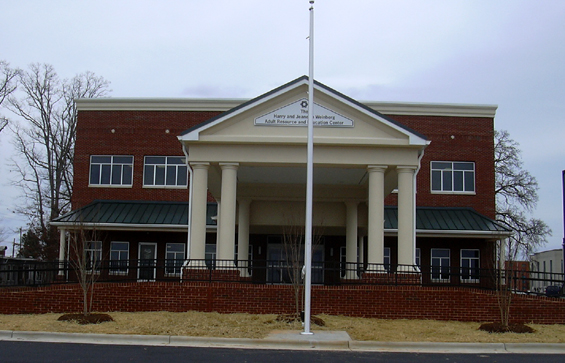 The Asheboro Open at Randolph Senior Adults Center
347 West Salisbury St. Asheboro, NC 27203
The Asheboro Open had a good run at Randolph Mall, but it was high time for an upgrade! Our new tournament location is at the Randolph County Senior Adults Center, 347 West Salisbury St. Asheboro, NC 27203. This is a brand new facility with space for up to 100 players! Take the elevator to the second floor and discover a well-lit playing area with a separate lounge and bathrooms. We even have access to a small skittles room. Dining is a short drive at less than two miles from US 64. There is also a Subway less than half a mile away on Fayetteville St., and an eclectic assortment of downtown restaurants within walking distance. Ample parking is available. Prepare to be impressed! (Note that the tables pictured in the photo will be replaced with larger ones)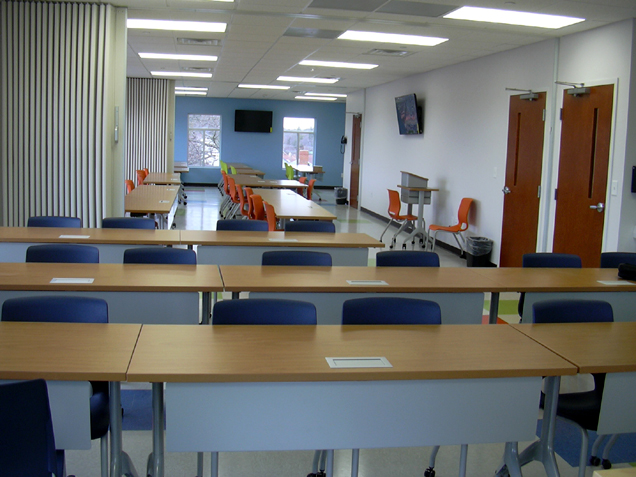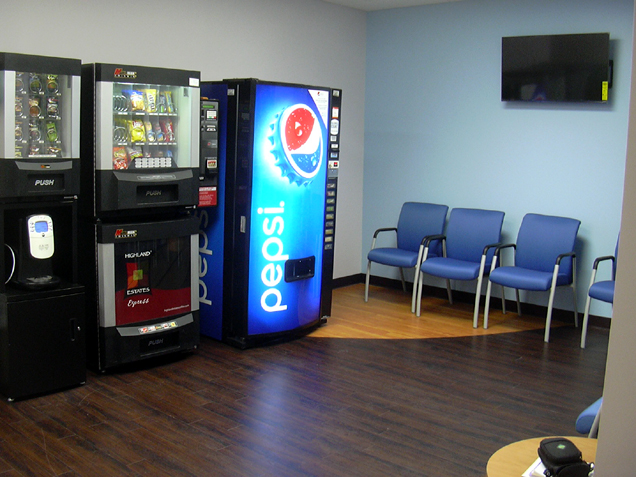 We need your support in our new facility. They offered us an incredible deal on the space, but it is still costlier than our old venue. We took a leap of faith, and hope to see our numbers increase for 2015. We can't do it without you! Help us make our first event one for the record books!!
Thanks to all who played in the Asheboro Open 94! Forty-two competitors from across North Carolina gathered to compete for $900.00 in cash prizes. In the Championship Section, Asheboro's own Candidate Master Jonathon McNeill dominated at 3-0 to earn first place and $130.00. Scholastic Wunderkind Aaron Balleisen nosed out the competition with a third round bye and finished with 2.5 points and $65.00. (Congratulations to Aaron on recently earning the title of "National Master" by breaking the 2200 barrier!). In the Candidates Section, Tobin Logan had a perfect tournament with 3-0 to win first place and $130.00. Tobin also earned 58 rating points to finish the event at 1731! Second place was a five way tie among the following players who earned $19.00 each: John Retarides, Homer Cantrell, Derek Chen, Christopher Chaves, and Berk Baykal. Congratulations to all!
The Club Section saw runaway train Gary Andrews dominate with 3-0 to win first and $130.00. In a tight race for second place, three finished at 2-0 to earn $31.67 each: Debs Pedigo, Daniel Winkelman, and Judd Staples. In the Booster Section, William Odum took no prisoners at 3-0 to win first place and $130.00. Four players tied for second place and won $23.75 each: Timothy Nixon, Luke Leahy-Higgins, Caleb Jones, and John Jackson. Well-played!!
We appreciate your continued support. Click "The Asheboro Open" link below for more info! Credit or Debit Cards welcome with pre-registration! Satisfaction guaranteed, or double your fun back!
The Quick Study & The Ricochet
Our upcoming Ricochet tournaments will be January 13, February 17, and March 10 2015. Five rounds of G/8 3 sec delay. Entry fee is just $2.00 for adults, $1.00 for 18 or under. This tournament is a lot of fun if you enjoy a quick pace and exciting finishes! Round one is a 7pm; arrive by 6:45pm or call in advance to be paired.
The Quick Study Chess Tournament series is also currently underway in Asheboro. We enjoy looking forward to a rated game each week--something serious and USCF-rated. Score keeping is encouraged, but optional. We play one round per week G/24 5sec. Pairings will be based loosely on Swiss System rules, but with TD discretion for modifications to enhance everyone's playing experience. Entry is FREE; $1.00 donations are accepted to help cover our rating expenses. That's $1.00 per tournament, not per round--a completely voluntary system. Action usually starts around 7:30pm, please call or email in advance since we sometimes start early.
A further explanation about tournament director modifications on the pairings. Since there are no prizes, the goal of having decent pairings will take precedence over the goal of achieving a clear winner. If a 2000 rated player shows up with no points, strict Swiss pairing may have them play a 1300. I would intervene, and try to pair them with someone 1800-up. Also, every effort will be made to avoid pairing people who ride in together.
Whether it's The Ricochet, or The Quick Study, there's rated chess in Asheboro every Tuesday! Join us! If you are running last minute, be sure to call me (336) 460-6882.
Asheboro Chess Club Information
Contact Us: chess@triad.rr.com (336) 460-6882
Asheboro Chess Club is currently celebrating seventeen years of chess memories. Conveniently located in the center of North Carolina, we meet weekly at the Asheboro Public Library. Players of all ages and strengths are welcome. Our ultimate goal is to serve as a conduit into rated chess activity. We believe that rated chess is the backbone of a strong chess community.
In keeping with this goal, we sponsor The Asheboro Open, a monthly USCF rated tournament that draws players from across the state and beyond. Area players also enjoy our popular Tuesday Night Tournaments series, featuring The Ricochet--five quick rounds of rated Game/8 3 delay excitement.
Asheboro Chess Club has a team of dedicated tournament directors, teachers, and volunteers who work tirelessly to bring you the Complete Chess Experience. For more information, simply click one of the handy links above.