An Official Affiliate of The United States Chess Federation
The Asheboro Open 98
Saturday July 11, 2015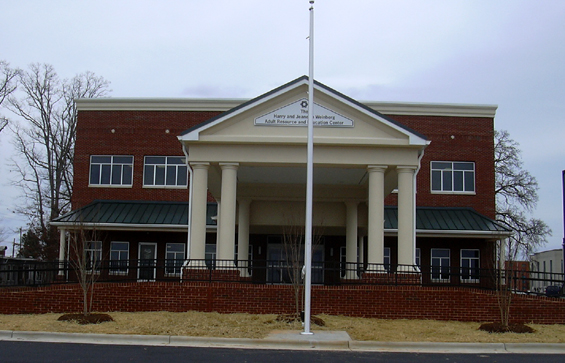 New Location at Randolph Senior Adults Center
347 West Salisbury St. Asheboro, NC 27203
Our new tournament location is at the Randolph County Senior Adults Center, 347 West Salisbury St. Asheboro, NC 27203. This is a brand new facility with space for up to 100 players! Dining is a short drive at less than two miles from US 64. There is also a Subway less than half a mile away on Fayetteville St., and an eclectic assortment of downtown restaurants within walking distance. Ample parking is available. Prepare to be impressed!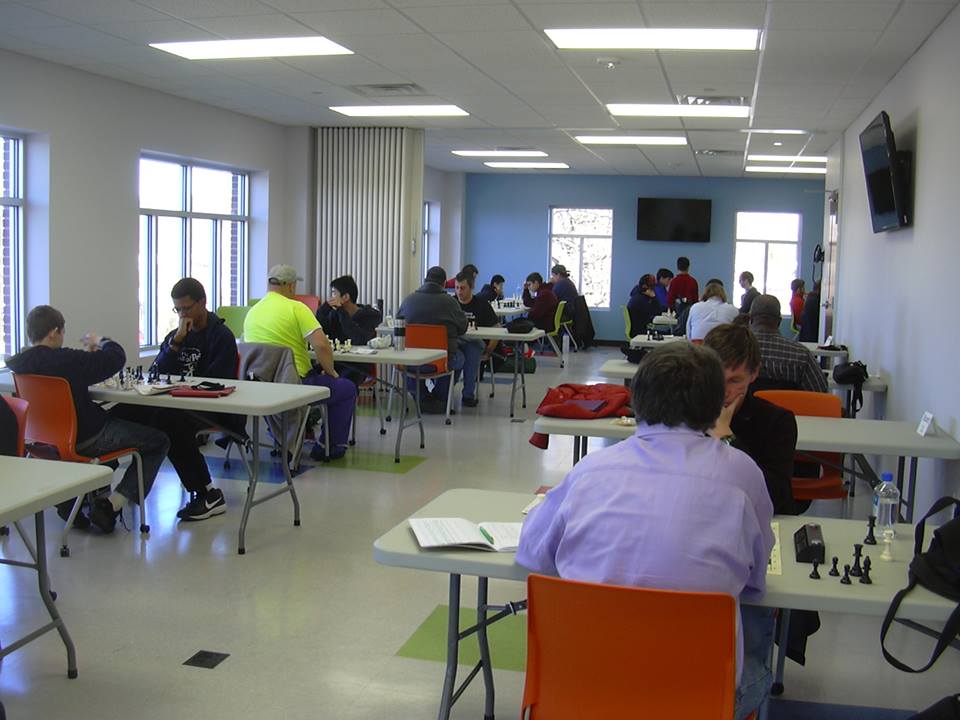 We need your support in our new facility, where it's "All About That Space!" It's clean and comfortable, with one board per table, LARGE convenient restrooms, and a lounge area. Many players have commented favorably on our new location, comparing it to larger tournaments held in hotels. If you haven't been to Asheboro lately, why not try something different? We will do our utmost to ensure that your playing experience is second to none! Our goal is to provide you with a "Big Tournament" experience, and chess memories to cherish for a lifetime. The Asheboro Open: Serving North Carolina chess players for 10 years!
Thanks to all who played in the Asheboro Open 97! Thirty mental jousters from across North Carolina gathered to compete for $660.00 in cash prizes, a payout of 88%. In the Championship Section, three players tied for 1st with 2.5 points each: CM Wil Mahan, Benjamin Snodgrass, and Reynaldo Diaz. Each won $73.33 in cool cash. The Candidates Section was conquered by Bill Putnam, whose third round bye proved sufficient to win 1st place and $130.00. Second place was a four-for-all with Berk Baykal, Homer Cantrell, Radames Ortega, and Larry Williams winning $22.50 each. In the Club Section, a statistically unlikely result occurred with two players earning perfect scores (with just 10 players). Alex Griswold and Sushant Krishen shared 1st place honor, winning $97.50 each. (Interestingly, the two split the Class Prize at TAO 96!). Tony Baity earned the $25.00 class prize with with a solid performance and 1.5 points. Congratulations to all!
Be sure to check out Asheboro Chess Club on FACEBOOK! We've posted tons of great photos from The Asheboro Open 97, and other club news. Please be sure to "like" our page. We are also looking for positive reviews.
We appreciate your continued support. Click "The Asheboro Open" link below for more info! Credit or Debit Cards welcome with pre-registration! Satisfaction guaranteed, or double your fun back!
The Quick Study & The Ricochet
Our upcoming Ricochet tournaments will be May 12 2015, June 30 2015, July 14 2015, and August 11 2015. Five rounds of G/8 3 sec delay. Entry fee is just $2.00 for adults, $1.00 for 18 or under. This tournament is a lot of fun if you enjoy a quick pace and exciting finishes! Round one is a 7pm; arrive by 6:45pm or call in advance to be paired.
The Quick Study Chess Tournament series is also currently underway in Asheboro. We look forward to a rated game each week--something serious and USCF-rated. Score keeping is encouraged, but optional. We play one round per week at G/24 5 sec delay. Pairings are based loosely on Swiss System rules, but with TD discretion for modifications to enhance everyone's playing experience. Entry is FREE; $1.00 donations are accepted to help cover our rating expenses. That's $1.00 per tournament, not per round--a completely voluntary system. Action usually starts around 7:30pm, please call or email in advance since we sometimes start early.
A further explanation about tournament director modifications on the pairings. Since there are no prizes, the goal of having decent pairings will take precedence over the goal of achieving a clear winner. If a 2000 rated player shows up with no points, strict Swiss pairing may have them play a 1300. I would intervene, and try to pair them with someone 1800-up. Also, every effort will be made to avoid pairing people who ride in together.
Whether it's The Ricochet, or The Quick Study, there's rated chess in Asheboro every Tuesday! Join us! If you are running last minute, be sure to call me (336) 460-6882.
Asheboro Chess Club Information
Contact Us: chess@triad.rr.com (336) 460-6882
Asheboro Chess Club is currently celebrating seventeen years of chess memories. Conveniently located in the center of North Carolina, we meet weekly at the Asheboro Public Library. Players of all ages and strengths are welcome. Our ultimate goal is to serve as a conduit into rated chess activity. We believe that rated chess is the backbone of a strong chess community.
In keeping with this goal, we sponsor The Asheboro Open, a monthly USCF rated tournament that draws players from across the state and beyond. Area players also enjoy our popular Tuesday Night Tournaments series, featuring The Ricochet--five quick rounds of rated Game/8 3 delay excitement.
Asheboro Chess Club has a team of dedicated tournament directors, teachers, and volunteers who work tirelessly to bring you the Complete Chess Experience. For more information, simply click one of the handy links above.